Dragons Take Down Tulsa
Sep 08, 2014 11:04AM ● By Mike
Ryan Agnew celebrates in the end zone after catching a Parker Fentriss 2pt conversion for a 42-41 overtime victory over Tulsa Union at AT&T Stadium.
Week 2- Tulsa Union [8 Images]
Click Any Image To Expand
by Robert Halliman
Down 10 with seven minutes left in the fourth quarter against Tulsa Union, a highly ranked out of state opponent, it seemed as if Hal Wasson's ball club would need a miracle. Looking to escape Jerry World with a 2-0 record, the Dragons found themselves in yet another overtime thriller. In a game reminiscent of the 2009 playoffs against Allen, the Dragons proved their resilience for the second week in a row with a trick play and an exciting 42-41 victory in the extra session.
It seemed to be déjà vu as Jake Oldroyd's pooch kick was recovered by senior defensive back, Devante Humphries-Wade late in the fourth quarter to fuel the late comeback and switch momentum away from the Redskins.
The extra period provided plenty of excitement as Union's Robert Thomas made a fantastic 25-yard touchdown grab to give the Redskins a 41-34 lead. On the next possession Lil' Jordan Humphrey put the Dragons within one behind a spectacular 25-yard touchdown run. Opting for the two-point conversion and the win, Head Coach Hal Wasson called a play that will have Dragon fans reminiscing for years to come. On the play, wide receiver Parker Fentriss completed a double reverse pass to Ryan Agnew as the Dragons completed a comeback victory for the ages. 
On the bit of trickery Wasson said, "We played Westlake last week, and they did it to us. It's an old Clemson play. Coach George put it in on Thursday, and actually I wanted to do it the first time and we didn't, but the second time it worked out for us."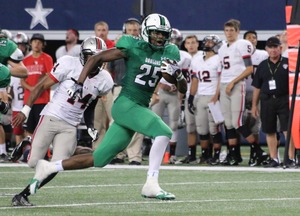 Humphrey paced the green and white, rushing attack with a career high 163 yards and four touchdowns earning Dragon Pride Player of the Week honors. Parker Fentriss led all receivers with seven receptions for 159 yards, while junior Zack Farrar caught four passes for 36 yards, including the game tying touchdown with less than two minutes remaining in regulation. Despite struggling early on Ryan Agnew proved that no moment was too big as he quarterbacked the Dragons to 25 points after the third quarter. Agnew finished the game throwing 20-37 for 295 yards and a touchdown.
Defensive coordinator Tim Wasson's unit was led by senior safety Andy Chelf, who finished the game with 17 tackles. In a game full of big plays, defensive tackle King Newton provided one of his own in blocking a Union extra point, which proved to be the deciding factor. 
The Dragons look to start off the season 3-0 as they travelto face Midland Lee in a rematch of last year's area playoffs.
The game winning 2-pt conversion made #3 on Max Preps top plays of the week!